Rhombus Realty Group

Agent

in Bangor, ME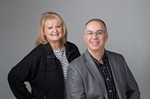 Professional Designations
REALTOR
Meet the Rhombus Realty Group
The Rhombus Realty Group is second to none. Contact us today to experience the highest standard of service. We are REALTOR's® Pam Libby & Steve Clifford. Whether you're a first-time buyer or an experienced investor, we're here to show you how to choose the right property, make an offer, negotiate, arrange financing, understand mortgage rates, facilitate the moving process, and everything else involved in making an informed home buying decision. We look forward to finding you your "NextHome."
Pam says: I've been in sales since I sold my first box of Girl Scout Cookies! As I think back on my career and the wonderful companies I've worked for, I decided it was time for a change. Don't you find that sometimes it's critical to go back to that "one career" that gave you the most satisfaction? That "one" that defines your personality? The "one" that's FUN! My passion is to help others, and doing so with one of the most significant investments of your lifetime is what makes it all worthwhile!
Steve says: Buying or selling property takes dedication, diligence, and attention to detail. Many years ago, one of my first customers said to me, "I appreciate your conscientious service." That statement stuck with me, and it continues to define my service to my clients. I have an extensive and varied history, from growing up on a Maine dairy farm to construction and 25 years as a small business owner. I'm excited to use my knowledge and experience to assist you with your real estate needs.
We are looking forward to sharing our Experiences with you as you Buy your "NextHome" or sell your House. Rhombus Realty Group is here for you.